Kate & James's Wedding, Tulfarris & Golf Resort, Co. Wicklow
Thanks to Kate for letting us in on how she meet James and how the big day went!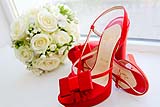 We met on a night out in the Q Bar May 2003 and just hit it off. We swapped numbers and texted constantly.

James was doing computer science in Trinity and said he was going to the Trinity Ball. Realising I was going to be there with the St. John Ambulance, we decided to meet up in the front square at around 2am. It was just perfect.

We arranged to go see Dreamcatcher (terrible film) two days later (11th May).

We got engaged in The Rockefeller Centre, New York December 2012 (my fave place in the world). It was perfect timing as we set our wedding date for 11th May 2013. 10 years to the day of our first "date".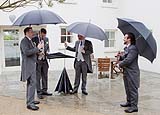 We just wanted our wedding to be relaxed and fun so we couldn't decide on an actual theme or style. We did a lot of DIY (place cards with funny pictures of each guest, photo booth props, table plan etc).

The day itself was perfect. Didn't set a timetable just went with the flow and everything worked out perfect.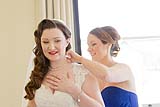 I got a bit sad after I put on my wedding dress as my parents weren't there to see it. But I made sure there where nods to them throughout the day (pictures of them on my bouquet, red shoes as my mam always wore red shoes and wearing the same necklace she wore on her wedding day) I was pretty calm till just before I walked down the aisle but once those doors opened, I wanted to leg it down but my Bridemaid Anna made sure I took my time.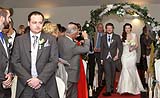 Seeing James at the end was just the most amazing thing ever. If I could do it all again I wouldn't change a thing.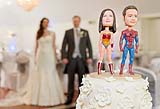 Everyone had a ball which is all we wanted, especially when the blow up instruments hit the dance floor and the photo booth was open for business.

You know it's a successful wedding when your guests end up with neck ties around their heads. Even to this day everyone still raves about the day and the wonder that was the photo booth.