Lorraine & Seanie - Trash The Dress Shoot
Our Trash the Dress shoot with Lorraine & Seanie. We thought it best to let Lorraine give her own feedback!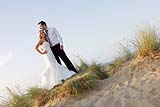 My 'Trash the Dress' experience was amazing. It was a great feeling to put on my wedding dress again and to recreate some of the magical memories of the day. I had a real sense of excitement about the creative aspect of the 'Trash the Dress' photo-shoot as there was no stress about getting my dress wrecked or dirty and we could concentrate on getting pictures that are vibrant, interesting and original.

The fun and freedom of taking an elegant wedding dress and using it in unusual locations is obvious in the photographs, it creates a magical contrast. We thought of numerous locations that were both practical and fun. We decided to go to the fun fair and the beach in Bettystown.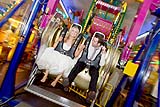 There were vibrant colours at the fun-fair and the ruggedness of the seaside contrasted brilliantly with the wedding dress.

Ruth and Martin have an obvious passion and talent for this type of a photo-shoot. They are so professional in their approach yet so easy-going. We never felt awkward or under-pressure to get shots and as a result we are absolutely thrilled with the photographs we have. They really went 'above and beyond' to exceed our expectations and we would have no hesitation whatsoever recommending them.