Niamh & Johnathon, Doonbeg
A little explanation by Niamh & Johnathon on how we work.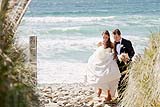 We chose our photographer because we loved Ruth and Martin's style and approach. Better still when we spoke with them on the phone they just seemed to get what exactly we wanted.

We also loved the option that we could have two photographers as much of us were getting ready in separate locations and we wanted both mornings to be captured; the beauty of working with two photographers is that you get a wonderful mix of formal shots which were important for us as we wanted to have those 8 or so formal shots that you frame also we wanted all the more candid and fun moments captured too.

By working with Ruth and Martin we got the absolute perfect mix of formal and candid photos and all our little touches and special moments were captured beautifully throughout the day.The icing on the cake is that they are an absolutely fantastic couple and loved sharing our day with them.

They were very relaxed and fun to be with and the utmost professionals at the same time.We felt they had really listened to what we wanted, researched the area, church and venue and gave us exactly what we wanted.

When we finally got our photos our expectations were exceeded in every way.