Laura & Barry - Palmerstown House
Laura & Barry's feedback on their location shoot and how rain on your wedding day doesn't have to dampen the occasion....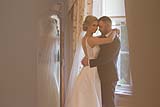 We met Ruth and Martin at an open evening at our venue and after having a chat and taking a look through some of their photo albums we decided their style of photography was exactly what we were looking for for our big day.
Being in front of a camera is my husband's idea of torture, so when I told him we had a location engagement photoshoot with our wedding photographers Ruth and Martin Sauvage, you can imagine the reaction!
However it really was the best thing to calm the nerves in advance of the photos on the big day and I couldn't recommend it enough to any couples who may be on the fence about having one. It was a great opportunity to get to know our photographers and to get a feel for what it would be like on the wedding day with them (great craic!). It was also around the same time of year as when our wedding would be so it gave an idea of lighting etc.
Ruth and Martin instantly put us at ease and before long we relaxed into it and just followed their lead!
On our wedding day itself it rained on and off for the majority of the day, a bride's worst nightmare! But to be very honest we didn't even really notice and it made absolutely no difference to our photos whatsoever, as Ruth and Martin had already sussed out the most gorgeous settings and backdrops for photos inside of the venue.
We thoroughly enjoyed our time with Ruth and Martin on the day. They really made us both feel completely at ease. We couldn't recommend them enough!