The Rulebook for Weddings was thrown away in 2020
These were the words of one of our December couples that were lucky enough to go ahead with their original date, but let's head back to Thursday the 12th of March... the day of the first announcements on Covid-19 by then-Taoiseach Leo Varadkar, and also the day of Fran & John's wedding at Palmerstown House; who could tell what was ahead of us all.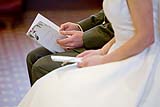 12.03.20 — The Day of the First Announcement
Fran & John's "skin of your teeth" Wedding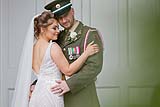 The build up to our wedding was completely normal. All our suppliers were ready to go and we had tied up all our loose ends. We were busy arranging our dresses, suits and other wedding paraphernalia to transport to the venue the night before. We were all set!. John was working and I was busy with our two small kids, so, although we were aware of the growing concerns of Covid-19, we never imagined how it would affect our lives in the coming months. I was still mourning the loss of my dad from the previous November so I was very much focused on creating a positive environment for my family. We arrived at our beautiful venue in Naas, Co. Kildare, Palmerstown House Estate at 10am the morning of the wedding. Our wedding planner, Niamh was really great and she welcomed us like we were VIPs. Breakfast was brought to the room and make-up and hair kicked off and I was so consumed by the mornings events I was unaware of the mumblings of restrictions and announcements. Niamh called me out of the room to sign a few necessary documents that were introduced under HSE guidelines and let me know that the Taoiseach was to announce restrictions at 12pm and she would keep me posted. I think this was when the first wave of panic hit me. I was determined for it not cloud my joy and excitement though. My amazing hair stylist risked everything to be there on my big day. He had a double lung transplant due to Cystic Fibrosis so would be absolutely high risk. Looking back I honestly think he must have been terrified. But he would never let fear stand in his way and would never let a client down. Niamh called me back out to give me the news that we had been dreading. No indoor gatherings of 100+ people. I felt the blood drain from my face and Niamh must have noticed. She quickly told me that our wedding would still go ahead but we must ask any at risk or elderly guests to please not attend. I instantly knew that my husband to be had invited his grandmother, who has had health issues here and there. He was her first grandchild to be married and this was going to be the first wedding she had attended in years. She was all ready to go when John made that call. She was expecting the call however. But to this day it's the one thing that just devastates him still. My aunts and uncles are mostly late 50s and up so I was very worried as some have had serious health issues over the past couple of years. My mum called them to ask them if they were feeling insecure to not attend or leave just after the meal. Looking back at our album you'd never know the sadness and panic that was brimming. The day went without a hitch otherwise and all the staff and suppliers came together to give us a day we will NEVER forget for so many reasons. We were so fortunate to be married at such a memorable time, although it was unfortunate for so many. We will always think back on the day as bittersweet but also know that we had been blessed with such a joyous occasion surrounded by family and friends before such a difficult time. To this day, nearly a year later, our family and friends are laughing at how we got married by the skin of our teeth. It was the last blowout for us all and it's great that, although we haven't been allowed to get dressed up and gather with anyone in excess since then, we have such great memories of the last time we could. Hopefully all the other people out there will get to enjoy whatever they may have dreamed up for their weddings. But in my experience, the most important part of the day is the thoughts you give to each other and all your loved ones thinking about you on the day, wherever they may be.
Little did we know that day leaving Fran and John's wedding it would be the last wedding we would shoot for five months!!! Lockdown hit and for both wedding couples and wedding suppliers it was not an easy time, but we did have some sunshine to get us all through, along with plenty of walks and I suppose the odd glass of vino!!!
Summer 2020: The Reopening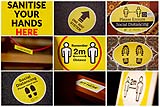 Our first wedding back was with Rachel & Joey at Clonabreany House, at this time you could have 50 people at your wedding and a live band, we were getting used to the new social distancing rules, the sanitizing of hands, but this was the first wedding we shot wearing masks. That was something that was a little surreal.
13.08.20 — Rachel & Joey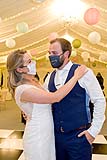 Planning a wedding during a pandemic was certainly interesting and kept us on our toes. We got engaged in 2018 and booked our 2020 wedding that autumn. We originally had a guest list of 180 and between March and August we teetered between a possible 20 to 100 guests and back again. After changing our initial date, at only 6 days before our wedding we found out how many guests we could have and at 50 including staff and suppliers we certainly had restrictions to meet. Our numbers were just one of the many restrictions we faced. There were possible time restraints, issues with food service and even dancefloor considerations to bear in mind.

Thankfully Mary and her team at Clonabreany were extremely helpful and understanding and left no stone unturned. We were aware of the pressure they were under and were also focused on what was most important to us, our marriage, so we did our best to remain relaxed and flexible, willing to do whatever was required of us, to enable us to have our wedding. When the day finally came around, although later than planned, we felt so happy but also completely at ease in the hands of professionals that truly cared. We were delighted we stuck with our decision to go ahead with our wedding and we were overjoyed that the day had finally arrived. The ceremony on site was beautiful. With our small numbers, it felt extremely special and intimate. To share such an important declaration of our love in front of closest family and friends was certainly emotional and is now a memory that we will forever cherish. Walking out of the Orchard Room, we were on cloud nine! We feel blessed to have had so much time to interact with our guests and it is great knowing we got to each and every one. To see our guests so happy, comfortable and getting to relax and put the current crisis out of their minds for the day and night, after months of restrictions, was the best gift we could have asked for. Clonabreany put every safety measure possible into action without making us feel under pressure or overwhelmed. Instead, we were filled with love and joy as we celebrated our special day. Our wedding was certainly a magical moment in the midst of the madness of 2020 and we wouldn't change it for the world!
With us now back shooting weddings in August something became very clear; every wedding was different and unique to each couple. Lynn & Gareth decided to have their church ceremony in August on their original date and plan the party for later in 2021.
27.08.20 — Lynn & Gareth
After two years of planning our wedding was derailed by COVID-19 not once but twice! We decided fairly early to reschedule our full reception until next year due to all the uncertainty and planned a smaller event on our original date to still get officially married and mark the occasion with our families and bridal party. However, the local lockdowns scuppered that plan too and we were only able to confirm that our priest was available to marry us two days beforehand! Naturally enough, it was pretty stressful and coming up to the day I wasn't sure whether I would feel the same emotion since we had to strip everything right back. But it was really important to us to get married and all that worry about whether it would be special enough faded away on the day. As soon as I arrived at the church, I experienced all the feelings that I had been afraid I wouldn't have — nerves, joy and excitement! I walked down the aisle to 'Love' by Nancy Adams playing from a tiny Bluetooth speaker and yet the sound seemed to fill the church and lift us up with it. I felt like a bride despite everything (and even though I wasn't wearing my actual wedding dress) By stripping everything back we were left with all the truly important things for a wedding day — our love for one another, the support of our nearest and dearest, and the opportunity to finally become husband and wife. We thought of the day as an elopement almost and all we had to focus on was enjoying the moment. We were blown away by how our friends, families, and neighbours came together to make our day as special as they could - we were so touched and grateful! We have so many fond memories of the day — it was so relaxed and intimate in the end that we actually feel we're getting the best of both worlds by splitting the event between the small ceremony this year and the bigger reception next year. Our advice for couples facing the same choices we had would be to think about what's most important for you, what feels most comfortable and make your decision as early as possible (with a backup plan for good measure if you're that way inclined). There will be stress but there's also still joy to be had, so don't discount the opportunity to spread out your wedding celebrations if you can or even go ahead with a smaller wedding — it can be a really beautiful experience! And just think it'll be a hell of a story to tell the grandkids as we were told many a-time! Plus, this way we still have the excitement of the reception party next year to look forward to — what more could you ask for in these extraordinary times!
Positive feedback came from every couple that went ahead with their wedding, with Emily & Adrian, one of our April weddings that rebooked for September coming back to us saying.....
26.09.20 — Emily & Adrian
We had the most perfect day when it came around and, although we could only have 50 people, it meant we could spend more time with everyone. It didn't feel like a small wedding, our guests said that smaller weddings were the way forward as it was much more enjoyable. We couldn't have asked for a better day, we are both just so happy to be married and to have had our special day!
With big changes introduced at the end of September and different counties experience different levels of lockdown, we were now on the edge of our seats for the next announcements with the full country rumoured to be heading into either level 4 or 5, weddings would only be allowed six guests, but Taoiseach Micheal Martin announced that weddings with 25 guests would be allowed until the end of the year. A sigh of relief came as we were about to shoot Karen & Chris's wedding at Cityhall....
22.10.20 — Day 1 — Lockdown 2
Karen & Chris
Having got engaged in February 2020, we both knew we did not want a long engagement so we went to look at venues soon after and found a place which ticked all our boxes looking after both our Irish and English friends and family. Little did we know that literally two days after we paid our deposit, Ireland went into its first lockdown (we know!!!). Some people said to us to not worry that this will all be over by October 2020 and it'll be something to look forward to so we kept optimistic.

So as October grew closer, it became clear to us that our original plans were less likely to happen and we needed to rethink our plans as postponing was never an option for us. So we changed county, ceremony and reception location and we were very lucky that our original suppliers were able to continue to work with us. We had such sound team of suppliers surrounding us and honestly we both could not have wished for a more wonderful day. An intimate wedding for us was filled with such genuine happiness and love from all our friends and family who were able to attend. It also allowed us to have the luxury of relaxing and enjoying time with each other and our nearest & dearest. We completely understand that re-planning a wedding and all the uncertainty regarding numbers of guests and last minute government restrictions doesn't go without it's immense stress but for us the most important thing was to make the commitment to each other. For those who weren't able to be there in person, they joined us virtually via a live stream and as soon as we can we will celebrate with them in style; lucky us we get a second day!
This is us now getting used to shooting weddings with 25 guests and couples having to be more creative with the later half of their day with no live music, it brings us to Christmas and back to how one of our couples summed this up.
The Rulebook for weddings was thrown away in 2020
Eileen & Conor had planned the 200 guest wedding at Farnham Estate but the year was 2020....
18.12.20 — Eileen & Conor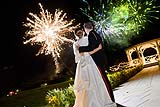 We got engaged in 2019 while hiking at Lake Tahoe in California. It was a question that was a long time coming after being together for 6 years and lots of teasing towards Conor from family and friends! Having attended a number of weddings and performed at even more (Irish dancer in a past life), I knew exactly what sort of wedding I wanted and launched straight into planning - 200 people, which we thought was not too big, not to small (how wrong we were), the bar had to be in the reception room for maximising dancing and mingling time, great band, even better food and a residents bar session that didn't finish until the next morning. The typical Irish wedding, all the bells and whistles.

March 2020 hit and we all thought COVID would be gone by the summer - our December wedding surely wouldn't be affected. The summer came and the realisation that we would have to change our plans became very apparent. We cut the list to 100 and decidedly agreed that we could not go ahead with less than that. Then another set of guidelines were published and we cut the list to 50, swearing that was the lowest we could go. Tears flowed, our minds flip-flopped between postponing and going ahead and postponing and ploughing on. Level 5 was introduced with 25 guests and we reduced the list again, purely as a plan B, but we still sent invitations to 50 praying that the pre-Christmas restrictions would bring us to Level 2 for the wedding. Two weeks before the wedding further devastation hit us when the band and dancing were excluded. We genuinely considered postponing even at that late stage, but after another late night discussion we decided that getting married with 25 guests and the potential for no dancing was the best option for us, regardless of the restrictions. It would be small and intimate, but we would have our nearest and dearest around us for our special day.

We are now three weeks married and reflecting on the day I can genuinely say that it was the best day of our lives. If I had known how perfect it would be back in November and December I wouldn't have been worried at all! The morning of the wedding I got ready with my bridesmaids and Mam, which would have been no different in non-COVID times. Going to the church with my Dad was such a special journey and except for the driver's mask there was no evidence of the pandemic around us. We arrived at the church to extra friends and family who travelled up for "a goo"! Walking up the aisle I didn't see anyone except for my dad by my side and Conor at the top of the altar. There could have been 200 people there and I wouldn't have noticed. We had an army guard of honour outside the church and all our guests were cheering for us as we walked under the arches of the swords. Twenty five people feels like a very big crowd when we haven't been socialising together in months! The sun came out for the photos and we felt on top of the world together. During the meal we looked around at all the faces and knew that we loved every person in the room. We didn't have to "do the rounds" going around the tables, we got to chat and dance and mingle with everyone as the night went on. Most importantly, Conor and I got to spend so much time together. I had heard a "top tip" from previous brides that you need to make sure you spend time with your new husband on the day of your wedding, but at our intimate wedding, we just had to look across the room to catch each other's eye. We got our dancing in the end with a just-on-the-off-chance playlist my brother had prepared. It was truly a perfect day. To other couples who are unsure of what to do, our advice would be ask yourselves what is your priority for the wedding - is it the two of you coming together to get married and celebrate your love, or is it the big party? Check in with each other regularly and try not to dive head first into the Facebook threads on wedding pages. We are so glad we invested in great photographers and a videographer to capture all the moments that we will cherish forever - now more than ever we need happy memories to keep us going. We also arranged a live stream for the ceremony which had a great reaction from family, friends and co-workers. The rulebook for weddings was thrown away in 2020, go with your gut and do whatever sits well with the two of you - the rest will fall into place.
2020 was a difficult year on many levels, let's take the positives and see what we learned, smaller weddings can work!!! One of the most frequent phrases used by couples starting to plan their wedding is "we want our wedding to be different". Organising a wedding during a pandemic certainly gives you different but can also give you a relaxed intimate wedding, bringing out the true nature of the couples love for one another, genuine happiness, the importance of family and friends sharing memories that you could never have even dreamed of and for us capturing those real, natural magical moments that can't be forced, they just happen.
January 2021 — Lockdown 3
We are looking forward to our first wedding back on the 6th of February with a beautiful couple and their six guests.